Motoring Ventures Team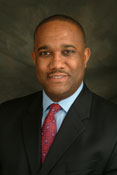 Edward T. Hightower
Managing Director
Edward Hightower brings extensive automotive expertise and business acumen to the leadership of Motoring Ventures LLC, its portfolio companies, and client engagements. He has a track record of success in creating value through product innovation, growth and operations excellence.
Previously, Hightower advised CEOs and leaders of automotive, manufacturing and consumer companies around the world as a Director at AlixPartners LLP. He is also the former chief engineer and leader of the full-size SUV business at Ford; and the former brand manager of the 5, 6 and 7 Series models for BMW in the US. He started his career as a chassis and vehicle performance engineer for GM and its Cadillac brand.
Hightower earned a BS in General Engineering from the University of Illinois at Urbana-Champaign and an MBA from the University of Michigan's Ross School of Business, where he served three terms on the Ross Alumni Board of Governors. He is currently studying the Mandarin Chinese language. 我 会 说 一点儿 汉语。我 是 汉语 的 学生。Hightower is a member of the American Council on Germany and the Council on Foreign Relations.